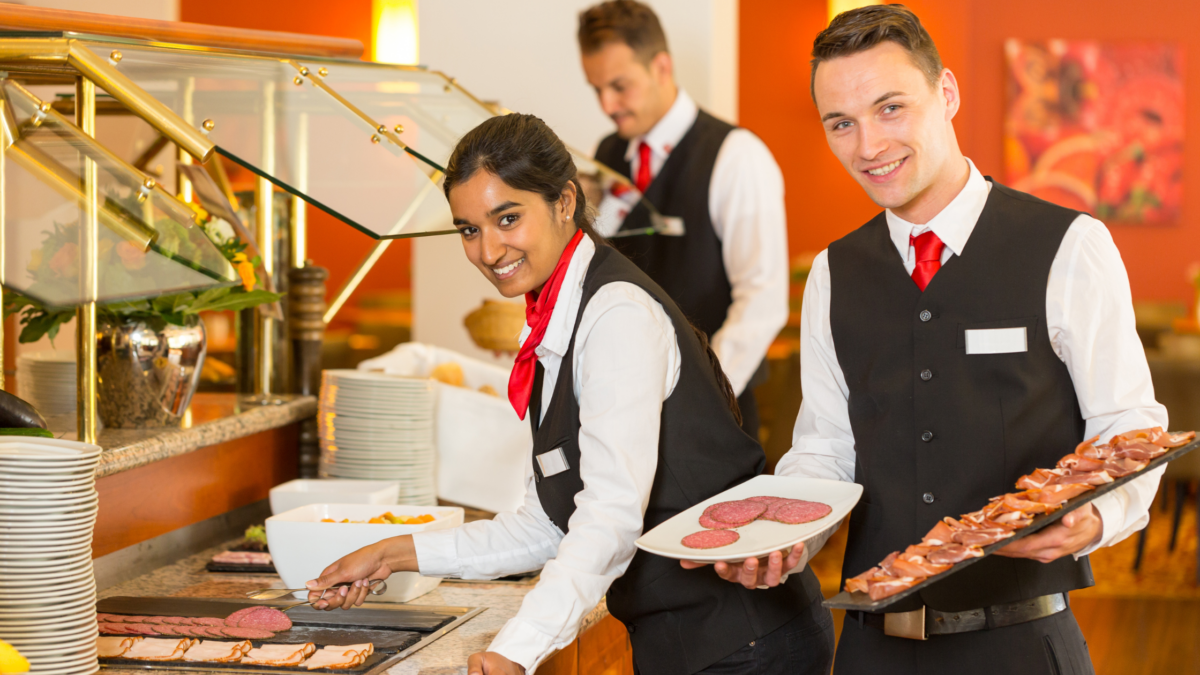 Flexible staffing for your activity in food and beverage
If you run a business in the restaurant industry, you know how variable customer flow can be. Do you know how to manage peaks of work interspersed with periods of stagnation? With flexible staffing, you can optimize costs and face the variable number of customers calmly.
Why hire flexible staffing
We have already discussed the enormous advantages for companies of hiring with a flexible contract during the holidays, but now we want to explain why it is convenient to use this type of contract throughout the year. Flexible staffing offers great opportunities, let's see the main ones:
Optimization of costs
You can turn some fixed costs into variable ones. In this way, you hire extra staff only when necessary. This flexibility allows you to manager easily peak times throughout the year.
Greater opportunities for choice
Hiring flexible staffing offers your business greater possibilities for staff selection. You can select the most suitable professional figures for that particular task based on specific skills. Not only that, if the collaboration has been particularly successful, you can also hire the same person. Our platform offers the "recall worker" option.
Saving time
By hiring flexible staffing, you save time and resources for training. Temporary staff can be trained only for the specific skills required for that particular job or period. Another timesaving aspect concerns all aspects of recruitment such as search, selection, and preparation of documents. At Jobby, we take care of numerous aspects such as attendance tracking and control and automatic sending of mandatory communications. You and your staff have more time to focus on other business objectives.
Flexible staffing for your restaurant business
What professional figures can you hire in the restaurant industry with flexible staffing? Based on our experience, we can make a brief list of the most sought-after figures.
Waiter and waitress
Hiring waiters flexibly, can offer numerous advantages for companies in the restaurant industry. This allows you to adapt quickly the number of employees to the customer flow, efficiently managing peak times without incurring excessive costs during periods of stagnation.
Delivery Driver
Delivery drivers for food delivery are in high demand. The mode of transportation can be a bicycle, motorcycle, or car. Home delivery is a great idea, if you want to increase orders without adding seating capacity.
Pizza Chef
Just because your pizzeria is open, 24/7 does not mean your pizza chef can work non-stop every day of the week. That is why you can hire flexible staffing to replace them. By giving the staff, the right holidays and days off, you will see great improvements in both performance and results. Check out how to manage a flexible workforce and learn how to create a good work environment.
Assistant Cook
Depending on the periods and reservations, the chef may need help in the kitchen. That's why we recommend hiring a flexible assistant cook who can help with order preparations during the busiest days.
Jobby for Companies
In this article, we have seen how flexible staffing can help your restaurant manage work peaks that are interspersed with moments of lull efficiently. Flexible staffing offers many advantages such as cost optimization, greater opportunities for staff selection, and time savings in candidate training and search. Additionally, the Jobby platform simplifies many aspects of hiring. You can also see the skills and experience of workers. We also take care of the bureaucratic part, leaving you to choice of the most qualified candidates for your company.
If you want to increase revenue and easily manage future work peaks with ease, try our 7-day free trial on our platform. Discover how to improve your team's performance and increase revenue with flexible staffing. At Jobby, we support you at every step because we specialize in flexible work.